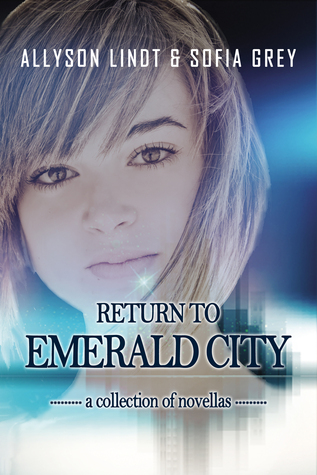 Return to Emerald City:
A Collection of Novellas Inspired by The Wizard of Oz, by Sofia Grey and Allyson Lindt
Blurb:
Dorothy's Red Shoes
There's no place like home…
Dorothy is already feeling homesick for Emerald City, and wonders if taking a job halfway around the world was a mistake. When her love life crumbles–again–will she run for home?
His Replay Girl
If he only had the nerve…
Ten years ago, Quinn made the best choice of his life, and the biggest mistake. It's true, his band, Lionheart, is one of the biggest in the world, but how much does it mean if he can't tell the woman he loves how he feels?
His Reboot Girl
If he only had a brain…
Scott woke up with his head spinning and not much else going on up there. Now he's a suspect in a terrorist plot, and
on the run. One woman insists she's the key to his past and his freedom. Too bad he doesn't remember her.
His Rewind Girl
If he only had a heart…
Cam is as much machine as man. There are days he loathes the CyGes implants that saved his life but couldn't do the same for his family. They replaced his limbs, but now he needs someone to mend his heart.
This collection of four novellas are written together by Sofia Grey and Allyson Lindt--and damn, are these ladies brilliant! Where one author leaves off, the other picks up in the next book with a new set of characters who are in some way related by friendship with the previous characters. The collection all together was, hot, enticing, and beautifully innovative!
Each story is based or loosely tied around a company called CyGes in Emerald City that builds, designs, and implants bionic parts into humans which makes for a lot of fantastically futuristic trouble and romance.
I especially had a lot of fun trying to figure out the theme of each story to trace back to the Tin man, Scarecrow and the likes in the world of Oz. For example, in the first story, Dorothy's Red Shoes by Sofia Grey, Dorothy realized home is where the heart is. Having moved to New Zealand from Emerald City in the States, she found a great job and began lusting over her suave and sexy boss; but soon she realizes, the person who would treat her with the respect and admiration she deserves, was right under her nose all along. A brief trip back to Emerald City put them at a distance, and it was then she knew her heart belonged with him and nowhere else.
And in the last story, His Rewind Girl by Allyson Lindt, Camden is left with bionic parts to fix his broken body after a tragedy that also took away everyone he had ever loved. The only part CyGes left him without was a heart to give the girl who may just be the one to bring him back to life again.
There are definitely naughty bits in this book, you will not be disappointed—in fact, each story gets hotter and hotter until it finally just explodes! I had so much fun reading this, thank you Sofia and Allyson for the chance to be one of the firsts to fall in love with this series!
Purchase link for Amazon: