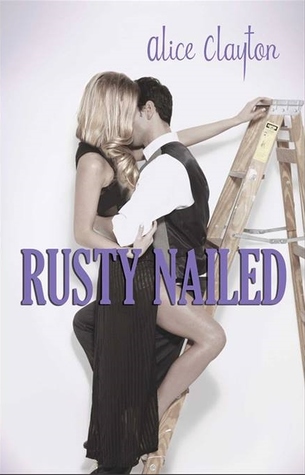 Rusty Nailed
Alice Clayton
Blurb
In this sequel to Wallbanger, the second book in the Cocktail series, fan favorites Caroline and Simon negotiate the rollercoaster of their new relationship while house-sitting in San Francisco.

Playing house was never so much fun—or so confusing. With her boss on her honeymoon, Caroline's working crazy long hours to keep the interior design company running—especially since she's also the lead designer for the renovation of a gorgeous old hotel on Sausalito. So with her hotshot photographer boyfriend gallivanting all over the world for his job, she and Simon are heavy-duty into "absence makes the heart grow fonder" mode. Neither has any complaints about the great reunion sex, though! Then Simon decides he's tired of so much travelling, and he's suddenly home more. A lot more. And wanting Caroline home more, too. Though their friends' romantic lives provide plenty of welcome distraction, eventually Caroline and Simon have to sort their relationship out. Neither wants "out of sight, out of mind," but can they create their own happy mid-ground cliché?
5 Book Rating
Have I mentioned that I absolutely freaking love this author? Well...it's true. This is the second book of The Cocktail Series and it was just as good as the first. Rusty Nailed had plenty of laugh-out-loud moments, the characters had the same sass as they did in Wallbanger, and Clive, Caroline's awesome feline companion had a sort of bigger role to play which was great.
This book picks up where Wallbanger left off. Simon and Caroline continuing on with their growing relationship, everything is going great, until Caroline's boss gets hitched and takes off on an extended honeymoon; leaving her in charge, and basically no time left to have a life. Meanwhile, something sort of triggers Simon to start taking some time off work, so with him not traveling the globe, he's stuck at a Caroline-less house which sort of turns into a Caroline-less relationship because she's starting to date her work more than Simon!
Needless to say their perfect relationship begins to dwindle leading them down a dark black hole problems. Ahhhhh while I was reading this, I was getting so worked up and frustrated at everything that was going wrong for them, haha. But, I will say that they do get their HEA, and I was VERY satisfied with how Caroline and Simon's story ended. Not to mention, I want their new digs!!! The sex is hot, the humor was great, and it made you feel all the feels a book could wrench out of ya! 5 big stars from me!
ALICE CLAYTON
worked in the cosmetics industry for over a decade before picking up a pen (read laptop).
She enjoys gardening but not weeding, baking but not cleaning up, and finally convinced her long-time boyfriend to marry her.
Now, about that Bernese Mountain dog